Incredibly there's just one week to go until the 23 Tranzfuser teams from across the UK descend upon Birmingham's NEC to take part in the UK's biggest consumer-facing video games show, EGX.
All hands are on deck at Tranzfuser HQ as we finalise all the little details; from agreeing schedules for all attendees, to checking the right things will be in the right place at the right time…the excitement is building!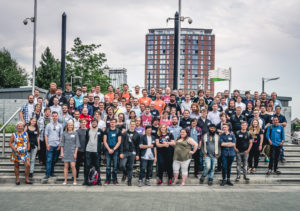 Not content with spending most waking hours prepping for EGX our fantastic teams have taken time out to speak to the team over at GI.Biz about their experience of Tranzfuser 2017.
Eleanor Cunningham (Final Forge, based at Sheffield Hallam University) said,
"Nothing can really prepare you when you start fully developing your own title, even after having worked on smaller games before. I can honestly say that I think I learnt something every day."
Michael Iorizzo (Inside Out Games, also based at Sheffield Hallam University) said,
"One of the things I've learned is that when you're on a limited budget, your time is your greatest asset. Don't waste your time doing things you're mediocre at. Use your budget to pay people to do that stuff so you can focus on what you do best and make that first product. We've wasted a lot of time – and by extension, money – in not following this advice. While you waste your time doing the menial tasks in the hopes that you'll save money, you're really spending way more than if you'd just hired someone to do it for you."
According to the teams, one of the biggest perks of being a participant in Tranzfuser has been the peer-to-peer mentoring and industry contact-making. Gary McCarten (Pocket Sized Hands, based at Abertay University) said,
"Even newcomers are treated like peers and it is great to be part of a community that is so welcoming. I played a few DMA Design and Rockstar titles growing up and it's crazy to think the guys that made Lemmings and GTA have had input to our game."
The anticipation of what the future might hold for the teams is starting to peak in the run-up to EGX. Aaron Preece (Fox Byte Games, based at Teesside University) said,
"I'd be lying if I said a part of me didn't think that it would make millions and I'd be on a beach in the sun on my own private island in four years' time," he says. "But we learned from everyone that we've spoken to and I've grounded my expectations – although I'd still love to be on that island. Now we're all just happy to be doing what we love and are looking forward to being able to earn enough money to continue working on the projects that have taken us this far."
All 23 teams will be at EGX Thursday 21st – Sunday 24th September. Be sure to stop by our stand to play the amazing games created by the best UK graduate game developers!