Mochi Mode (one of the two Tranzfuser 2017 competition winners) are busy working on the game they impressed the judges with at EGX, Moo Moo Move. We caught up with Producer Laura Wells to find out what's been happening since Tranzfuser 2017 and what advice they'd give to this year's teams.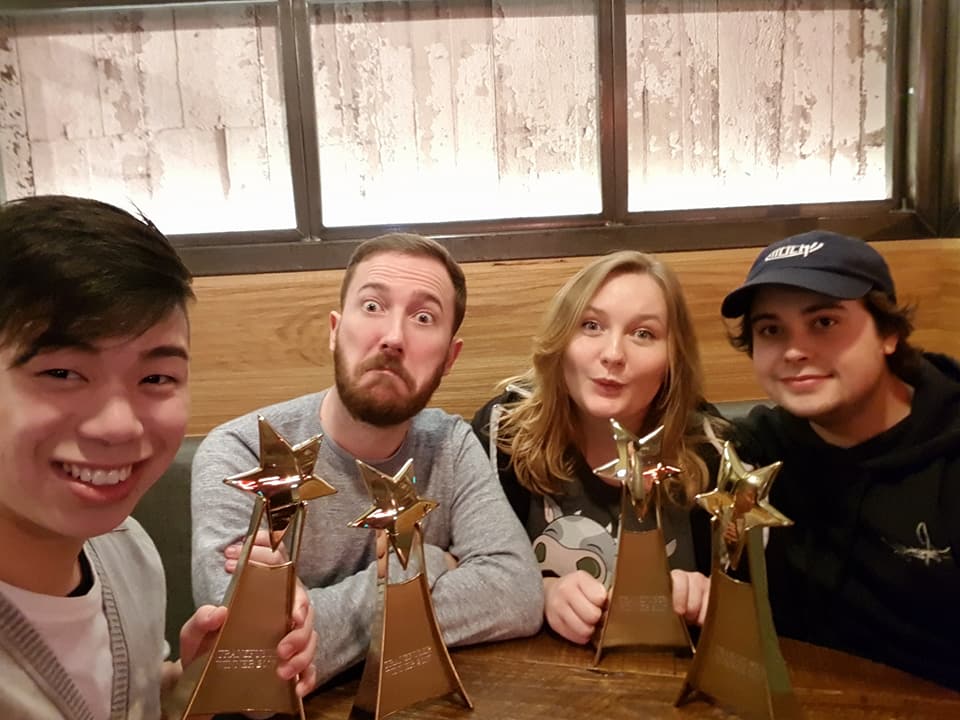 What significant changes have happened at the company since you won the competition?
Since we won the competition Mochi Mode has come on leaps and bounds. We've continued work on our first game Moo Moo Move and are nearing its completion – we're talking with a publisher to set a release date in the near future.
We took a month out to create a vertical slice of another game called Hustle Heroes – a competitive co-op adventure where you start as peasants looking to battle the kingdom's monsters. I'm sure you'll see more of that project soon!
As well as developing our games, we've received help from Tranzfuser's Accelerator program with excellent mentors who help us go after the right opportunities. We're working hard to act on their feedback and are really appreciative for the amazing support!
We were also able to join the Natwest Entrepreneur Accelerator where we have access to business mentors, coaches, free office space and a hub of fellow start-up businesses.We have jumped into that community as well as the local Games Wales scene, organising a 'Level Up Your Business!' event to link both communities together through the looking glass of video games. We're even working with Escape Reality (a company creating awesome escape rooms) to create an interactive gaming space in their bar. They let us try out one of their horror rooms as a team. So even though we're working hard, there's a lot of fun to be had along the way!
What would you be doing now if you had not been selected to receive funding from the UK Games Fund?
I think we'd still be trying to open a company, we always worked on projects together during our studies and loved every moment. Even if we had not received the funding, the hype of the competition experience and the quality vertical slice we managed to make in just ten weeks tested our mettle. We said to each other again and again before the announcement that if we didn't get this, this isn't the end of the line! We've had failures since but our ability to look at the positives and collect ourselves has always pulled us through. I don't think I've ever spoken to a mentor that hasn't had to work through failure to get to where they are, so in that respect I look forward to it.
What's next for the company / game?
Over the next few years, we want to become a sustainable studio that greatly contributes to the Welsh game development scene. One of the key reasons we came together is because we all had the personal goal to be able to create games in Wales. We love game development, but we also love being close to home. We want to stay as a small team, create quality games that are a little different and help other studios in our community achieve the same thing.
What advice would you give to this year's teams?
Put yourself out of your comfort zone – approach mentors with questions. Attend community events and try to help your community grow in any way you can. Do talks, share knowledge, and get yourself out there!
Look at criticism in a positive light – be open to what peers and mentors have to say but don't feel you have to exercise every single item on the list. There will be some feedback that really speaks to you, that hits the nail on the head and you know you have to act on it. Some advice will be things you COULD do but don't have the time, and some you'll think just won't fit. It's okay to trust your instincts.
Take care of yourselves – I really believe a part of why our team is succeeding is because we balance our work and home lives. Starting a business is high-pressure, there are ups and downs and what feels like a hundred new things to learn each day. A great piece of advice I had from a mentor recently was: "Don't try to do everything great all at once. Break tasks down and focus on one thing at a time so that it's manageable and doesn't overwhelm you."