Shuttershade Studios (one of the two Tranzfuser 2017 competition winners) are busy working on the game they impressed the judges with at EGX, Hyper VR Party Ware. We caught up with Marcus Nichols, Lead Designer, to find out what's been happening since Tranzfuser 2017 and what advice they'd give to this year's teams.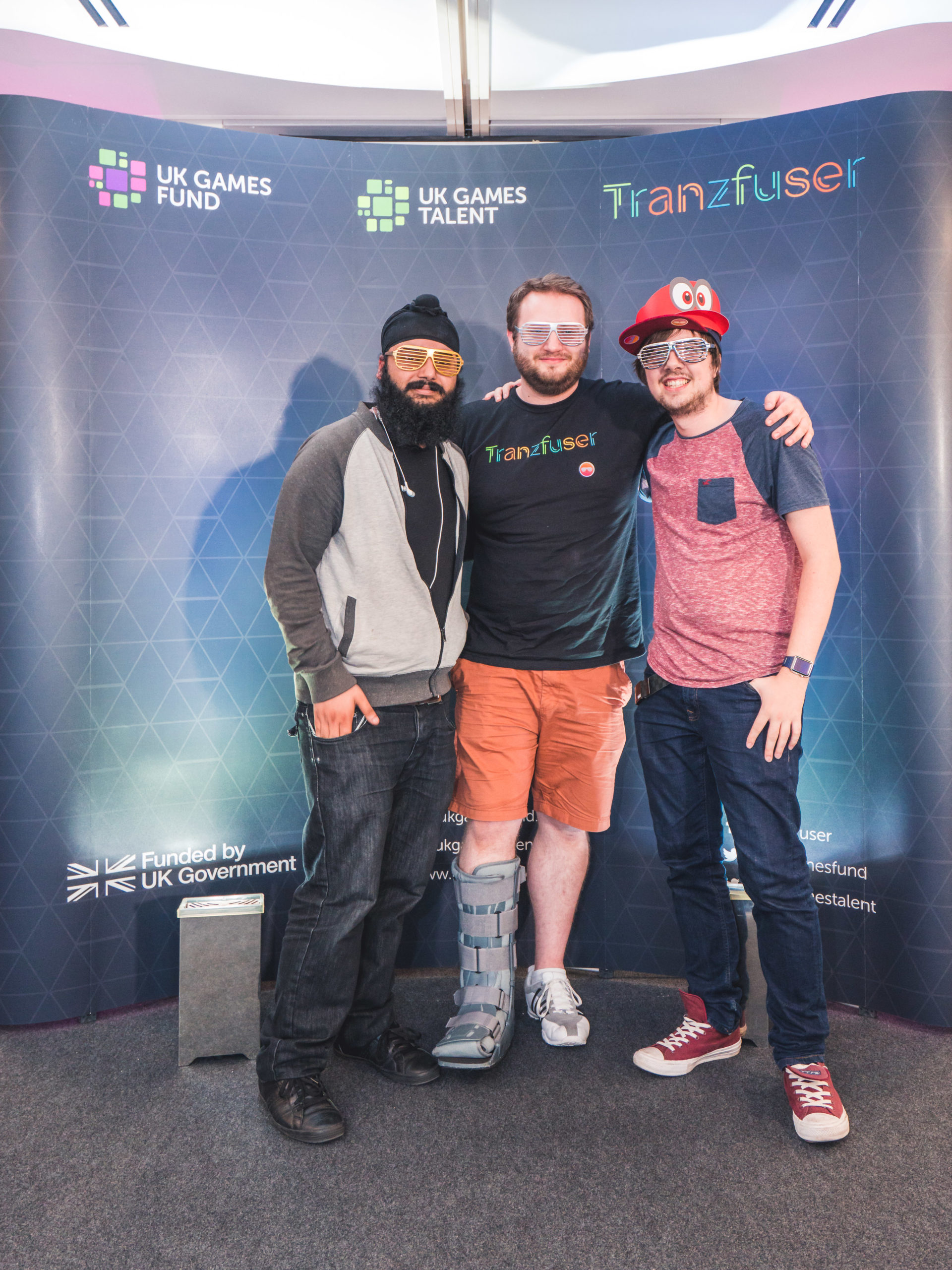 What significant changes have happened at the company since you won the competition?
So before the competition, we were just a group of friends that were working on the game for fun as part of one of our university modules.  Since winning the competition it's enabled us to take something that we enjoyed working on and turn it into our full time day-job.  We're still having a kick-ass time working on the game and we're now adding in a lot more of our crazier ideas as we have room to test and experiment more than before.
Most importantly though, it's really allowed us to take our team and become a legitimate game company.  We've done a little bit of freelance work and have even had the pleasure of contracting a few of our friends for artwork and audio where we could finally pay them for their services instead of the usual mates rates free work.  We're now able to devote all of our time to the project and to push it to become the commercial product that we want it to be.
What would you be doing now if you had not been selected to receive funding from the UK Games Fund? 
That's a tough one to answer, because there's a lot of variables that can really affect where we would all be and what we would all be working on.
For the most part, if we hadn't of been selected then I don't think we would all still be working on our VR project or at least not to the capacity that we are currently.  Everything comes down to money at the end of the day, and if we aren't able to financially support ourselves then we would have to invest our time elsewhere to secure that.  However, I think we would've all continued to work on the project during evenings to see if we were able to get it to a state where a publisher would want to pick it up.  Albeit progress would've been a lot slower than what it is today.
What's next for the company / game?
For Hyper VR Party Ware we are currently in the process of looking for a publisher for that title.  To do this we're preparing the best compiled build of the game to date, which we can then start showing to various publishers.  We're also taking this build of the game to several events as well.  We're going to be exhibiting in the VR Zone at Insomnia 62 this Easter bank holiday weekend, and we should also be making an appearance at Norwich Game Festival as well as GaMaYo.  We'll have some more shiny Shuttershade Studio stickers that we'll be handing out at these events.
Once we've secured extra funding, we should then be on track for a Q1 2019 release of Hyper VR Party Ware where we should hopefully be bringing it Steam, Oculus Store and PlayStation.
For the company, we've already planned a few additional projects that we want to have a crack at after we've wrapped up on VR Party Ware, so we've got a few of those planned.  For the most part we're sticking with the team of 3 until we land a project that needs us to scale up the team size.  We all get along pretty well with each other and we're probably going to keep it like that for a while.
What advice would you give to this year's teams?
There's quite a bit of advice I would give, firstly it would be to play test the living heck out of whatever it is your developing.  It's something we've been doing for a while now and it really helps you to find the core of what really makes your game fun. Once you've found that, you can then really push what it is in order to make something that the end player is really going to love.
With play testing it also makes you really push to think more about the player as opposed to what you want as a developer.  They're the people that want to play and enjoy your game so you really want to push their needs before your own.  There's a lot of content that we've scrapped for VR Party Ware and game design decisions were made specifically with the player in mind.
It's also really valuable to make sure that as a team you communicate properly and frequently discuss the state of development on your project as well as discuss team contribution. It's a topic that isn't touched on as much as it should be but an under-performing member of the team can really cause slumps in development, especially when many development tasks are dependent on a team member completing a specific task first.