Vostok Inc Launches on Variety of Platforms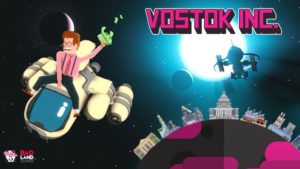 Nosebleed Interactive, based in Newcastle and part of the Round 1 portfolio of funded companies, launched their game Vostok Inc with Badland Publishing this week.
In the tongue-in-cheek sci-fi shooter you play as, "a greedy, space-capitalist with the ultimate goal to get filthy, stinking, rich! Of course, it wouldn't be much of a shooter if there weren't enemies to blast on the way to untold riches. You'll encounter a variety of different alien races (each with their own agenda) with assets ready for "liquidation." Each dead enemy, defeated boss, and vanquished environmental hazard drops loot, making every encounter a ripe business opportunity. Once you've collected enough moolah it's time to land on planets and start mining, terraforming and colonising."
Andreas Firnigl, Director at Nosebleed Interactive, said the support from UK Games Fund was critical to the game making it to market.
"The funding from the UK Games Fund came at exactly the right time for us as a company. Vostok Inc would not have got to the point it's at today in being released on so many platforms were it not for the support from the Fund; not only did the financial support help us massively on the actual development of the game, so too did the business support activities help us in getting the game in front of the right people."
Kirsty Gibson, Head of Community at UK Games Talent and Finance CIC, said:
"We're delighted to have been able to help a talented outfit such as Nosebleed Interactive release their game. The support we offer our community of funded companies has always been about more than just grants; through our network of industry contacts we aim to spread the good word about the growth of SME games development in the UK and help create lasting and rewarding partnerships for the future."