It is not just traditional video games that we have been able to support. With the runaway success of Pokémon-Go, augmented reality is already transforming the way we all game. One Fund recipient which has seized the opportunity that advances in technology have presented is the team behind SwapBots.
SwapBots is an augmented reality (AR) toy. Unlike other scan-to-play toys, the SwapBots figures function as an integral part of the gameplay rather than just a means to unlock content for use within a conventional video game.
By swapping pieces, the player can influence in-game attributes. The player points their phone or tablet at the SwapBot toy to see it come to life as the digital animation is overlaid onto it.
Chief Marketing Officer for SwapBots, Phil Charnock says that the project could not have been realised without the support his team received:
"Our company was doing client work around interactive software and immersive experiences and we were using AR and VR technology. As it got bigger and more popular the natural progression was for us to concentrate on these areas and move into video game production.

"The UK Games Fund has been amazing for SwapBots – it has been more than the money. They have helped us to get where we are and navigate the big bad world of the gaming industry.

"The support has provided an amazing bridge for us; it has taken us from a really raw concept and prototype to a Kickstarter campaign where we are actually starting to sell the toys."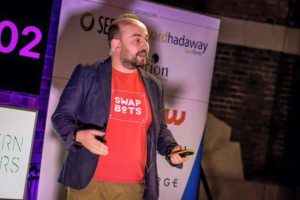 The Kickstarter campaign has seen SwapBots raise over £25,000 for the manufacture of the toys. Phil explains that to get to this point, it is not just the gaming industry that the company has had to navigate:
"Creating a toy has been a massive challenge. We have had to learn about retail and manufacturing too. It has been all about finding the right partners. SwapBots is part of the HAX boost program based in San Francisco and through that we've been put in touch with retailers and manufacturers."
HAX's investment has enabled the SwapBots toys to being manufactured in China by a company called Creator which makes the toys for Activision's Skylanders – an established toys-to-life action 3D platformer video game series. Phil is optimistic and excited about the future:
"The next stage is to get SwapBots into the hands of children and get them playing it. Demo-ing any immersive technology right now is such a thrill – people love it and are so visibly excited by it – so much more than they are with just a flat screen.

"Our dream of course is to get it SwapBots into shops. At the moment we have one or two deals that are close to happening with big retailers but of course, they want us to prove ourselves right now with our beta product. Once they've seen that, they'll be happy to stock SwapBots. We can't wait to be able to walk into stores everywhere and see SwapBots on the toy shelves."